Sanctuary Floor Replacement
After almost 2 years of planning and construction, the church sanctuary floor was replaced with a new oak and maple wood floor. The result has been a stunning facelift to our worship space. The total cost of the renovation was about $16,000 of which $11,600 was raised from generous donations from members, and the rest was budgeted by council. All the money was raised before construction began.
Many people were involved in making the project a success. Last Construction did the planning and  layout (primarily carried out by members Steve and Andy Last). Klinger Painting did the finishing. It was great to have several STAMP members help out during the deconstruction and building.
Throughout the construction period, the sanctuary was used for every worship service with minimal disruption. The new floor was completed by Thanksgiving 2013 – just in time for the advent and Christmas season.
Here are a few pictures from before and after the new floor was put in:
Before: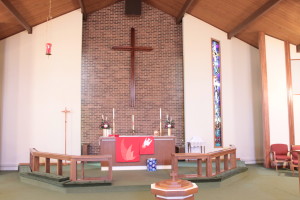 After: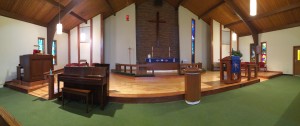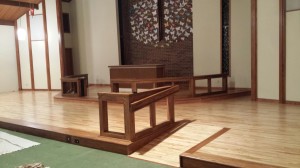 Pictures of St. Andrews